Parowan man predicts end of world . . . again
By KELLEN JONES
UNIVERSITY JOURNAL
Some 20 years ago, as Leeland Freeborn flew home to Parowan from his Milford farm in his private airplane, fate took a turn for the worst.
Most people would think that getting in a plane crash, ending up in a coma for three weeks, then walking around with crutches for the rest of their life would be a negative experience.
In Freeborn's case, he said he believes this experience wasn't only life changing and positive, but prevalent to the world's salvation.
Freeborn said that in his comatose state he passed through "the veil," or into a life after death. He said he met God and his prophets, deceased family and friends, and learned many principles and a new perspective.
"When people get so near to death, they see a light or something," Freeborn said. "Not me, though I don't know why, but I passed all the way through."
He said before he came back God gave him a blessing telling him of his new role and then he woke up. Since that day, Freeborn has told millions of people on many continents about his experiences, and has donned the name "The Parowan Prophet."
Also, since his crash and coma, he said he has had multiple revelations. He said he has met and talked with God, and revealed the word of God and his prophets to everyone he possibly can.
He said he maintains a Web site and publishes a monthly flier to ultimately inform and educate populations on how to live and heed God's warnings.
Before his crash, Freeborn said he was a devout Latter-day Saint, holding leadership positions in both ward and stake congregations.
After the wreck, he said he believes in some of the doctrine that is taught and reads his scriptures every day.
He said he "keeps all of his covenants."
Under his clothing, he said he still wears the same garments worn by Latter-day Saints.
Although Freeborn was excommunicated from the Church of Jesus Christ of Latter-day Saints years ago, he said he is not bitter.
Freeborn said because of the laughter and persecution from the people he has told, Mormon or not, he believes these people just need to heed God's warnings through him.
"I believe (Gordon B. Hinkley) is the president of the church, but not exactly a prophet of God," Freeborn said. "(I believe) this because he has not prophesied anything that I am aware of."
The two men have met face to face, he said, and Freeborn claims Hinkley is a "good man."
Part of Freeborn's beliefs and, as he said, through God's orders, Freeborn practices polygamy.
He has many children and multiple wives. There are even a few children on the way at the age of 60.
Freeborn also said he insmore Mormon than anyone "because of the true meaning of Mormon."
"I have had the opportunity, right here in Parowan, to meet with the prophets of old. Moses, Matthew, Peter, Paul, Joseph Smith and John Taylor," Freeborn said.
Freeborn said persecution is natural when a different belief is introduced to an area.
"Can you imagine walking outside in the morning to discover 12 flat tires on your kid's cars?" Freeborn said. "Can you imagine witnessing snow rushing through your front window because a rock has been thrown through it, or your children being beaten up on their way to school?"
"We've had cats and pets poisoned right here in our front yard."
For these reasons, Freeborn said he has lived in Parowan alone since 1988, but said he has his family(s) near enough to keep in good contact.
He said six or seven of his older children have fallout shelters and both understand and heed his advice almost fully. But the younger ones are too young to make these decisions for themselves, Freeborn said.
Since he has lived alone, Freeborn said there have been no dramatic incidents related to his religious beliefs.
Revelation for Freeborn has no exact pattern, he said.
He said sometimes he may have a dream or vision, or revelation from God, to make prophecy on a certain subject three times a month. Then again, he said sometimes he receives these visions only a few times a year. He said he has made public about 12 revelations; but has kept three-fourths of his revelations secret because he said he has been told not to pass his revelations on to the public yet.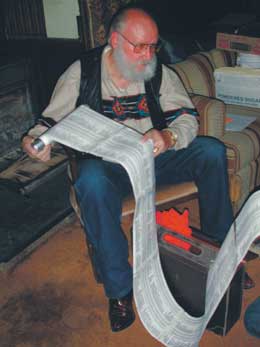 Leland Freeborn, also known as the Parowan Prophet, shows a list of almost 1,600 specific places in the United States where he says possible disasters could happen.
ANNIE BROWN / UNIVERSITY JOURNAL (From that target list this map was made CLICK HERE
These visions have transpired even in plain daylight, he said.
Once, Freeborn said he was driving and he witnessed a mushroom cloud form. Freeborn said this same vision has happened multiple times since the first.
Freeborn said he now knows exactly where these nuclear bombs will be dropped and when. He said there are thousands of locations mapped out and plotted for the safety of those who will listen to him.
Freeborn said he knows all the details and "has proof" of the soon-coming World War III.
Because of this revelation, he said he has tried to help people by teaching how to construct fallout shelters and to use necessities to survive.
He also said he knows President Gordon B. Hinkley will die before the first of next year and Saddam Hussein will die soon before or after Hinkley's death.
He said his latest revelation happened on Nov. 10.
He said he felt impressed by the spirit to sit down and ponder.
Freeborn said the latest revelation discusses God's disgust with the world today, talking of pride and haughtiness, and the eternal consequences that will fall upon those who don't heed the advice and live worthy under God's words.
Freeborn said he doesn't know if this is the last warning God will give, but he knows the end is near.
In his vision of the nuclear bomb nearest to Cedar City, he said there was snow on the ground and decorations for the holiday season.
Because of this, Freeborn said he thinks the nuclear war and/or attack on Iraq will come in the winter just before or after Christmas. He said he thinks it may be this winter.
Freeborn said the words he speaks are not his words, the words are the Lord's. He said this makes the words he shares inarguable.
Whether the attack on Iraq does or doesn't happen soon, or President Hinkley doesn't die before the first of the year, Freeborn said he will still reveal what God tells him and will have explanations from God as to why these things did or didn't happen.

(The Parowan Prophets comment, remember he said I was more Mormon than Mormons. Read their Mormon Prophet's comment. May 15, 1843
He said:" I may safely say that the word Mormon stands independent of the learning and wisdom of this generation.—Before I give a definition, however, to the word, let me say that the Bible in its widest sense, means good; for the Savior says according to the gospel of John, "I am the good shepherd;" and it will not be beyond the common use of terms, to say that good is among the most important in use, and though known by various names in different languages, still its meaning is the same, and is ever in opposition to "bad." We say from the Saxon, "good"; the Dane, "god"; the Goth, "goda"; the German, "gut"; the Dutch, "goed"; the Latin, "bonus"; the Greek, "kalos"; the Hebrew, "tob"; and the "Egyptian, "mon." Hence, with the addition of "more," or the contraction, "mor," we have the word "mormon"; which means, literally, "more good."
Yours, JOSEPH SMITH.
in the book Teachings of the Prophet Joseph Smith page 300 The Mormon leaders are not good enough to save their own people. So it's easy for me to do "more good" for millions.

So how much good will you do for people that you know? Will you tell them where to find the life saving information here on my web sites?
OR will you just wait and see what happens, until it's too late!
I will make a prophecy : MOST People will wait to see, and have eternal regrets. )
Decide who the hypocrites are. See Amos 3:7 in your Bible.