Billboard Free Survival Plans 17,000 Vehicles EVERY SINGLE DAY,
one half million per Month pass this on I-15 Freeway West of Parowan.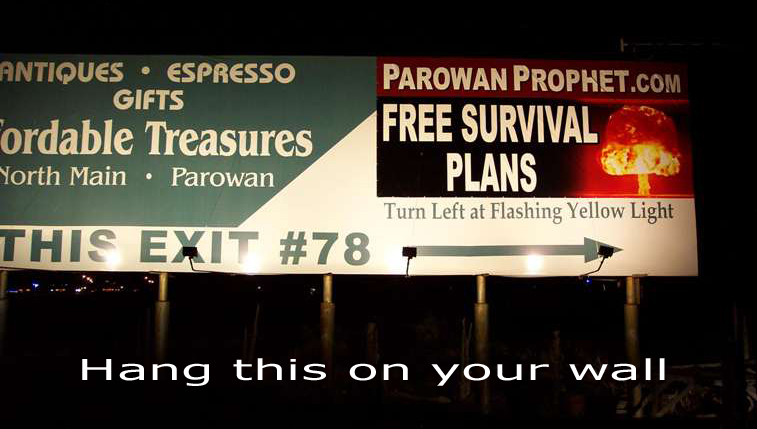 It can be seen from 1000 feet away. About 1/4 mile away.

At night time when it's very dark you can't see very far. You need some light to see what is in
the distance. Perhaps a wreck is ahead that will surprise you and cause you to crash and suffer
harm yourself. Would you want to be upon a Ship coming into the Harbor through dangerous waters when the Lighthouse was broken down?
What if the ship's Captain was asleep and was not watching. Or perhaps he just would not heed
the position of the Lighthouse and sailed right on into the rocky shore and wrecked the ship.
You find yourself in the water too late to do anything but swim. And where is your family?
They are in the cold water also. Because nobody was watching the signs for destruction of the ship.

Brigham Young said: "Some are very anxious that I should have visions. I have all that the Lord gives to me; and all that he keeps back he may; for that is no concern of mine.
We are on the old ship Zion; and if God is not at the helm, the old ship will wreck and go to the Devil.
As for my taking charge of the Kingdom of God on the earth, exclusively and independently of direction from heaven, I shall not do any such thing. If the Lord does not direct the old ship and act as captain and pilot, it will go to destruction." Discourses of Brigham Young page 343
Again Brigham said: "I know enough to let the Kingdom alone, and do my duty.
It carries me, I do not carry the Kingdom. I sail in the old ship Zion, and it bears me safely above the raging elements; I have my sphere of action and duties to perform on board of that ship; to faithfully perform them should be my constant and unceasing endeavor." Journal of Discourses 11: 252.

"Do you know why some men give counsel different one from another? Because they undertake to give counsel without the Spirit of the Lord to dictate them. But when the Spirit dictates, then each one knows what to do, and their counsel will be the same. Adam, Seth, Enoch, Noah, all the Patriarchs and Prophets, Jesus and the Apostles, and every man that has ever written the word of the Lord, have written the same doctrine upon the same subject; and you never can find that Prophets and Apostles clashed in their doctrines in ancient days: neither will they now, if all would at all times be led by the Spirit of salvation. If men will so act as to order their lives aright and continually keep the commandments of God, they will be able to administer the blessings of the kingdom of God. There is no clash in the principles revealed in the Bible, the Book of Mormon, and the Doctrine and Covenants; and there would be no clash between any of the doctrines taught by Joseph the Prophet and by the brethren now, if all would live in a way to be governed by the Spirit of the Lord. All do not live so as to have the Spirit of the Lord with them all the time, and the result is that some get out of the way." Journal of Discourses 5: 329 See this CLICK HERE
(Some Captains are asleep.)

(The Kingdom is NOT the Church CLICK HERE)
"The Lord will rule; and if we continue steadfast to the kingdom of God, it will save us; but if we do not, we shall be left off, and the old ship Zion will sail right a-head and safely carry her passengers into port. If the people could understand, they would be able to discern that we must gain that spiritual victory I have already spoken about, before we can have the privilege of proclaiming the building up of the people of God in the mountains."
Journal of Discourses 5: 329
"We are a blessed people, and we shall be preserved from our enemies, if we continue to do right, and the Lord will sustain us. And I can tell you that this people will do right and God will sustain us. Ere long Zion will triumph and the glory and knowledge of God will cover the earth, and we will still be in the old ship Zion and ride all wicked opposition down to destruction. May God help us so to do. Amen." Journal of Discourses 6: 77
"Why do people apostatize? You know we are on the "Old Ship Zion." We are in the midst of the ocean. A storm comes on, and, as sailors say, she labors very hard. "I am not going to stay here," says one; "I don't believe this is the 'Ship Zion.'" "But we are in the midst of the ocean."
"I don't care, I am not going to stay here." Off goes the coat, and he jumps overboard. Will he
not be drowned? Yes. So with those who leave this Church. It is the "Old Ship Zion," let us stay in it. Is there any wisdom in all doing as we are all told? Yes."
Journal of Discourses 10: 295

"When all who constitute this kingdom are faithful to its requirements, it moves along; the old ship Zion will not stop; upon this we may be satisfied, and give ourselves no further trouble.
When we look abroad upon the world we see mankind running to the east and to the west, to the north and to the south, here and there. They are thrown upon the great ocean of human affairs, without compass, rudder or pilot to guide their little barques to a safe haven of rest.
They wander to and fro upon the earth; eyes have they, but they see not; ears; but they hear not, and they know not whither to go to find that joy and peace their hearts seek and long for.
Their minds individually are confused and distracted, and they cannot see the way of safety when it is placed before them; yet here it is—this kingdom,
a living miracle to all its beholders; this is admitted by and astonishes the world."
Journal of Discourses 11: 250

"Some men in their hours of darkness may feel—I have heard of men feeling so—that the work
is about done, that the enemies of the Saints have become so powerful, and bring such vast
wealth and energy to bear against them that we are all going to be crushed out pretty soon.
I will say to such brethren, it is very bad policy for you, because you think the old ship of Zion is going to sink, to jump overboard, for if you jump overboard you are gone anyhow, and the old ship Zion will ride triumphantly through all the storms, and everybody who proves unworthy to remain on board of her and jumps overboard will repent of it when it is too late, as many have done already." Journal of Discourses 17: 200 (It is too late when 'fallout' begins.)
So now you should understand that the Old Ship Zion will carry people to safety, IF the Captain is watching. IF NOT, it will wreck on the rocks. Does your ship have a Captain awake? Or asleep?

The Apostle Peter said: "We have also a more sure word of prophecy; whereunto ye do well that ye take heed, as unto a light that shineth in a dark place, until the day dawn, and the day star arise in your hearts." 2 Peter 1: 19 (Our Billboard is a light of Prophecy in a dark place. Up for 8 Years so many millions could see. It just wore out like all of us old guys.)

So "IF" your Captain does not see the Lighthouse, or pay attention to the signs of danger (Prophecy) because he has no light and can't see in the dark then you will get wrecked.

One half million vehicles per month pass our sign. (In 8 years about 48 Million Cars passed our Billboard. Some Cars had more than one person.) Very few will believe what it says.
A lighthouse means nothing to them until the wreck. Too late they learn the truth. Every vehicle has at least one person in it, the driver. Some have 2 or more people, that means 1 million PER Month pass by our sign. So do they believe? Nope! Will they take heed? Nope. (Maybe 100 million people passed our Sign. About 100 Million will die in USA soon.)
What else can we do to warn people who drive with their eyes shut?
The ancient prophet Mormon reported Nephi's vision, like his father Lehi.
Both of them say that the LDS "Mormon" church will fall, and a great multitude of them destroyed. I say a million will DIE in Utah.
See that yourself. CLICK HERE
See the FREE Survival Plans CLICK HERE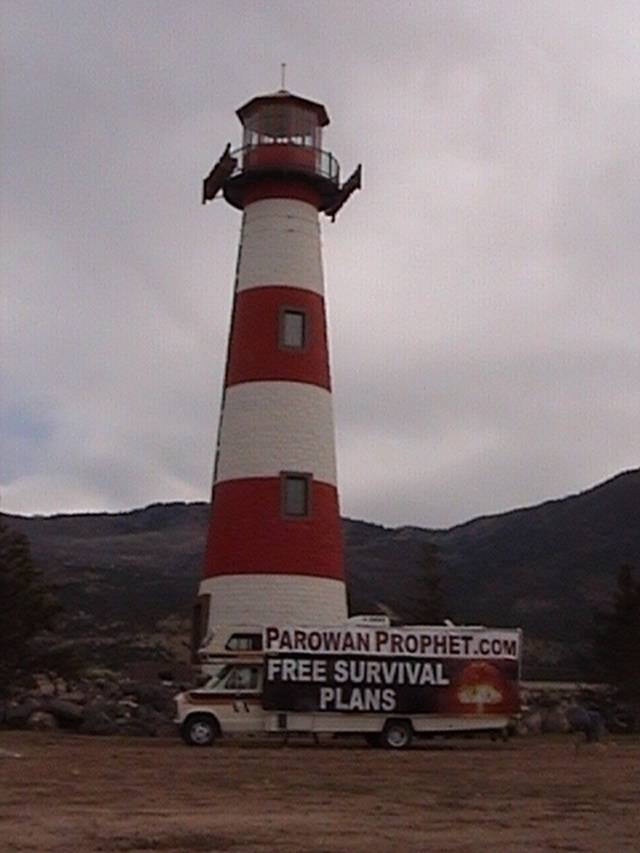 A Lighthouse of Prophecy showing the future. So will you heed the warning or sail on into disaster?
Paslm 119: 105 "Thy word is a lamp unto my feet, and a light unto my path."

2 Chronicles 20:20 "Believe in the Lord your God, so shall ye be established; BELIEVE his PROPHETS, so shall ye prosper."

Parowan 1:1 "So don't believe his prophets, and sail on into disaster."

Psalms 119: 130 "The entrance of thy words giveth light; it giveth understanding unto the simple." (THY WORDS ARE A LIGHTHOUSE)
Do you really believe what God says? I don't think you really do!
You are willing to stake your life and those that you love upon your un-belief.
Even the simple understand.
Psalms 97: 1- 12
The LORD reigneth; let the earth rejoice; let the multitude of isles be glad thereof.
2 Clouds and darkness are round about him: righteousness and judgment are the habitation of his throne.
3 A fire goeth before him, and burneth up his enemies round about.
4 His lightnings enlightened the world: the earth saw, and trembled.
5 The hills melted like wax at the presence of the LORD, at the presence of the Lord of the whole earth.
6 The heavens declare his righteousness, and all the people see his glory.
7 Confounded be all they that serve graven images, that boast themselves of idols:
worship him, all ye gods. (Millions of people act just like the heathens. Do you?)
8 Zion heard, and was glad; and the daughters of Judah rejoiced because of thy judgments,
O LORD
9 For thou, LORD, art high above all the earth: thou art exalted far above all gods.
10 Ye that love the LORD, hate evil: he preserveth the souls of his saints;
(you will soon be amazed who his saints are) he delivereth them out of the hand of the wicked.
(Do Saints act like heathens? Do you really believe what God says?)
11 Light is sown for the righteous, and gladness for the upright in heart.
12 Rejoice in the LORD, ye righteous; and give thanks at the remembrance of his holiness." Psalms 97: 1- 12

Prophecy is the Lighthouse of God's words. He has said:
"Thus saith the LORD, Learn not the way of the heathen, and be not dismayed at the signs of heaven; for the heathen are dismayed at them.
3 For the customs of the people are vain: for one cutteth a tree out of the forest, the work of the hands of the workman, with the axe.
4 They deck it with silver and with gold; they fasten it with nails and with hammers, that it move not. (Nailed on a Christmas tree stand.)
5 They are upright as the palm tree, but speak not: they must needs be borne, (carried) because they cannot go.
Be not afraid of them; for they cannot do evil, (only you can by ignoring God) neither also is it in them to do good.
6 Forasmuch as there is none like unto thee, O LORD; thou art great, and thy name is great in might.
7 Who would not fear thee, O King of nations? (Very few people) for to thee doth it appertain: (Christ-Mass!)
forasmuch as among all the wise men of the nations, and in all their kingdoms, there is none like unto thee.
8 But they (the people) are altogether brutish and foolish: the stock is a doctrine of vanities."
Jeremiah 10: 2- 8 See I told you that you don't believe the Bible and what God says.
See the Mormon's Christmas Tree CLICK HERE

Psalms 110: 5-6
"The Lord at thy right hand shall strike through kings in the day of his wrath.
6 He shall judge among the heathen, he shall fill the places with the dead bodies; he shall wound the heads over many countries." World War III. (with dead heathen bodies)

Our Motor home of Prophecy is traveling in Utah and warning people. How many will really believe? Very few. Until too late. Will you be ready before Christmas time? CLICK HERE AND SEE.
About what God says will happen. CLICK HERE

You just can't Laugh this Off CLICK HERE it is real.
Last week I traveled over 900 miles from Saint George in Utah's Dixie, to Logan on the North border. Hundreds of thousands of people saw me at 25 to 45 miles per hour. Down Main, and State streets in every town. Up to the North border, and back to Parowan. Only about 1 in 1000 clicked onto my web site. Few believe and most will have eternal regrets.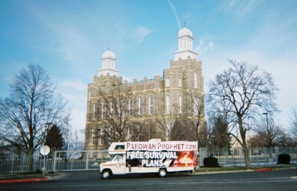 Logan Temple at the Top of Utah State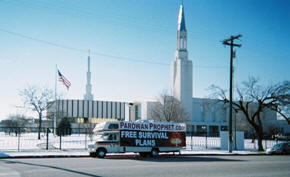 Ogden City Temple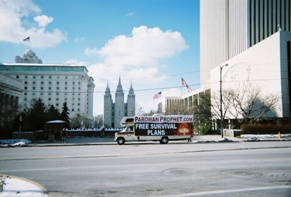 Salt Lake City Temple in background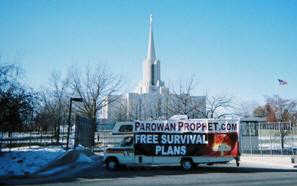 Jordan RiverTemple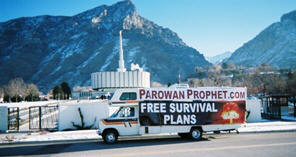 Provo Temple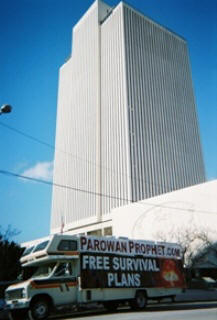 The Great and Spacious Building
CLICK HERE "IN THE AIR High above the earth. And it was filled with
people, both old and young, both male and female."



Fountain of Water, Temple in Background. X over MAP of World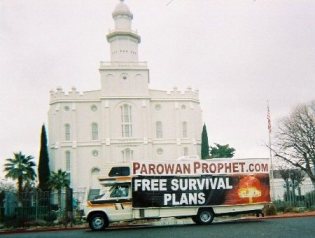 Saint George Temple December 2006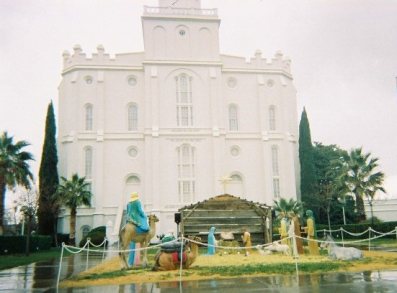 The Mormons celebrate the heathen holidays just like all the other Christians denominations. God can't tell the difference in any of them. None of them really believe the Bible! Mormon Christmas CLICK Tree See how they are Apostate and do NOT believe what God has said. Do you? Decide to live or die! See FREE Survival Information.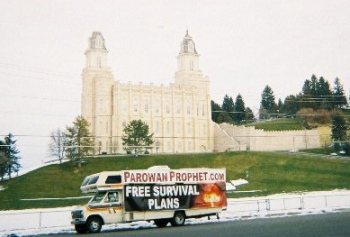 The Manti Temple 12/ 2006
Why are you here reading this web site right now? What will be your excuse when
God ask's you if you had been warned? Have your sleeping leaders said even one
word of warning? Nope, they are all a bunch of false prophets spoken about in the
scriptures. You do believe in the existence of false prophets don't you? Why would
God warn about them unless he knew that a bunch of nice men would deceive you.

2042 Miles in 14 days in December 2006 from North to South and East to West and
hundreds of thousands have seen us pass by @ 25 to 45 MPH. Very few believe.
Do You? Thousands of flyers and Bookmarks were given away to Banks, Civic
Leaders, Civil Defense leaders, Students, and the general public at large.
19,000 Pink "Bookmarks" were printed. Peter said they would scoff. 2 Peter 3: 3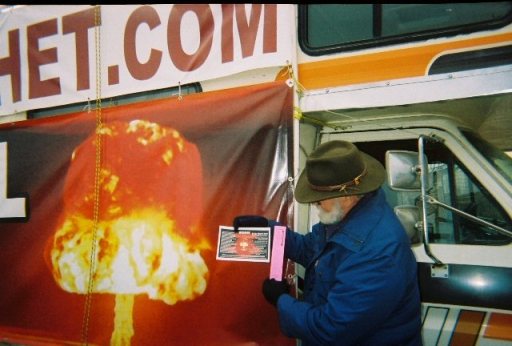 CLICK HERE to see the flyer in my right hand.

36 Months ago BACK IN JANUARY 2004 the "SUN" called me for
a story. Read the article about Saddam's death. CLICK HERE