August 2015 = 5 Months left till December Doom.
A THOUGHT WORTH CONSIDERING
WHY DID JESUS CHRIST. JOSEPH SMITH, BRIGHAM YOUNG AND HEBER C. KIMBALL SAY these things?

WHY DID THE GREAT PROPHET AND PATRIARCHAL HEAD OF THIS DISPENSATION OF THE FULNESS OF TIMES STATE:

Joseph Smith said: "If (IF) the Church knew all the commandments, one-half they would condemn through prejudice and ignorance." Teachings of the Prophet Joseph Smith Page 112 older editions. (Can anybody obtain Celestial Glory knowing less than half of the commandments?)

WHERE THE KINGDOM OF GOD IS NOT, THERE IS NO SALVATION

Joseph Smith said: "Now I will give my testimony. I care not for man. I speak boldly and faithfully and with AUTHORITY. How is it with the kingdom of God? Where did the kingdom of God begin? Where there is no kingdom of God there is NO SALVATION. What constitutes the kingdom of God?
Where there is a prophet, a priest, or a righteous man unto whom God gives His oracles, there is the kingdom of God, and where the oracles of God are not, there is the kingdom of God is not." Teachings of the Prophet Joseph Smith pages 271-272

WHY DID THE PROPHET BRIGHAM Joseph Smith's successor say:

"If we draw off in our feelings and have a divided interest from the kingdom of God, we shall fail in obtaining the object of our Priesthood. NOTHING will stand on this earth, in the final issue, but the kingdom of God, and that which is in it; everything else will pass away ── WILL BE DESTROYED.
Then if we in all our works seek to identify our feelings, our interests, our whole efforts in one to sustain and build up the kingdom of God on the earth, we are sure to build ourselves up.
If our faith is correct, we will apply our labor in that way which will promote our own interest, thereby promoting the interest of the kingdom of God on the earth; but IF WE HAVE EVEN ONE INTEREST separate and apart from that kingdom, we do not fully promote our own individual welfare." Journal of Discourses 3:154 Brigham Young May 6, 1855


CLICK HERE to learn about the kingdom of God http://www.parowanprophet.com/Polygamy_And_Mormons/find_the_truth.htm

"Everything else will pass away ─ WILL BE DESTROYED"
That destruction includes all governments and religions including the Latter Day Saints or Mormons.
"4 But behold, in the last days, even now while the Lord is beginning to bring forth the word, and the blade is springing up and is yet tender—
5 Behold, verily I say unto you, the angels are crying unto the Lord day and night, who are ready and waiting to be sent forth to reap down the fields;

6 But the Lord saith unto them, pluck not up the tares while the blade is yet tender (for verily your faith is weak), lest you destroy the wheat also.
7 Therefore, let the wheat and the tares grow together until the harvest is fully ripe; then ye shall first gather out the wheat from among the tares, and after the gathering of the wheat, behold and lo, the tares are bound in bundles, and the field remaineth to be burned." Doctrine and Covenants 86:4-7

So are you "wheat" OR "tares" to be burned?

"UNLESS THEY KNOW JESUS CHRIST, AND HIS FATHER, AND RECEIVE THE HOLY GHOST, AND BE PREPARED TO DWELL WITH THE FATHER AND THE SON; BECOME ACQUAINTED WITH THEM, AND CONVERSE WITH THEM, THEY WILL ALL BE DAMNED; EVERY SOUL OF THEM WILL BE SENT TO HELL." Journal of Discourses 3:88 Brigham Young August 8, 1852

Do you know who the Father of Jesus Christ really is? CLICK HERE http://www.parowanprophet.com/pay_attention_to_who_said_it.htm


WHY DID THE PROPHET BRIGHAM YOUNG'S first counselor HEBER C. KIMBALL Say this:
"Compared with the hosts upon the earth, only now and then one (1) will receive the Gospel, and after that, only now and then one (1) of those who do receive the truth will be saved by it, and obtain celestial glory." Journal of Discourses 3:269 Heber C. Kimball March 23, 1856


WHY DID JESUS CHRIST SAY THIS:

"55 Which vanity and unbelief have brought the whole church under condemnation. 56 And this condemnation resteth upon the children of Zion, EVEN ALL. 57 And they shall remain under this condemnation until they repent and remember the new covenant, even the Book of Mormon and the former commandments which I have given them, not only to say, but to do according to that which I have written" Doctrine and Covenants 84:56-57
(Until the LDS accept the "Book of Mormon and the former commandments" to DO THEM they are condemned EVEN ALL. Includes everyone in the Church.)

HOW CAN WE KNOW THIS CONDEMNATION HAS NOT BEEN LIFTED?
JESUS CHRIST FURTHER STATES:

"9 And when they shall have received this, which is expedient that they should have first, to try their faith, and if it shall so be that they shall believe these things then shall the greater things be made manifest unto them.

10 And if it so be that they will not believe these things, then shall the greater things be withheld from them, UNTO THEIR CONDEMNATION.

11 Behold, I was about to write them, all which were engraven upon the plates of Nephi, but the Lord forbade it, saying: I will try the faith of my people." 3 Nephi 26:9-11

So for 185 years to now in 2015 things have been withheld from the LDS Church and its members have not repent(ed) and remember(ed) the new covenant, even the Book of Mormon and the former commandments which I have given them and therefore EVEN ALL remain under this condemnation.

1890 was a pivotal year for the LDS as they embraced the Manifesto and apostasy from Polygamy forever at the instance of the US Government; as was written as a commandment from God in Doctrine and Covenants Section 132.
It is written in the Utah State Constitution they cannot have polygamy forever. Then they adopted the Articles of Faith in 1890 ALSO as are written in the Pearl of Great Price current LDS scriptures. As a result God has been told to keep his mouth shut. CLICK HERE to see about it being withheld. http://www.parowanprophet.com/What_is_the_Reason.html

CLICK HERE http://www.parowanprophet.com/Polygamy_And_Mormons/what_was_foretold.htm

"32 Let him (her) that is ignorant learn wisdom by humbling himself (herself) and calling upon the Lord his (her) God, that his (her) eyes may be opened that he (she) may see, and his (her) ears opened that he (she) may hear; 31 My people must be tried in all things, that they (he and she) may be prepared to receive the glory that I have for them, even the glory of Zion; and he (she) that will not bear chastisement is not worthy of my kingdom." Doctrine and Covenants 136:32-31

Chastisement is coming in December because everyone does NOT repent! If you repent and be re-baptized and begin to change your priorities then you may live.

"4 Wherefore, now after I have spoken these words, if ye cannot understand them it will be because ye ask not, neither do ye knock; wherefore, ye are not brought into the light, but must perish in the dark.

5 For behold, again I say unto you that if ye will enter in by the way, and receive the Holy Ghost, it will show unto you all things what ye should do.

6 Behold, this is the doctrine of Christ, and there will be no more doctrine given until after HE SHALL MANIFEST HIMSELF unto you (he or she) in the flesh. And when he shall manifest himself unto you in the flesh, the things which he shall say unto you shall ye observe to do.

7 And now I, Nephi, cannot say more; the Spirit stoppeth mine utterance, and I am left to mourn because of the unbelief, and the wickedness, and the ignorance, and the stiffneckedness of men (women); for they will not search knowledge, nor understand great knowledge, when it is given unto them in plainness, even as plain as word can be." 2 Nephi 32:4-7

"28 And now, little children, abide in him; that, when he shall appear, we may have confidence, and not be ashamed before him at his coming. 29 If ye know that he is righteous, ye know that everyone that doeth righteousness is born of him."
1 John 2:28-29

"1 Behold, what manner of love the Father hath bestowed upon us, that we should be called the sons of God; therefore the world knoweth us not, because it knew him not.
(Do you know Jesus Christ yet? Has he come to you as John 14 in the Bible says he will do. You don't really believe that yet do you?)

2 Beloved, now are we the sons of God, and it doth not yet appear what we shall be; but we know that, when he shall appear, we shall be like him; for we shall see him as he is." 1 John 3:1-2 (Are you yet like Jesus Christ? NOPE and you know it is true and you know why also.)

Then open your eyes and read what God has caused to be written in the scriptures. You can read the words yourself. You don't need anyone to tell you what the words mean.
You can think for yourself. "IF" you can't think then you are just like the dumb monkey that must die. War is coming soon.
CLICK HERE if you want to repent and live. http://www.parowanprophet.com/Nuclear_War_Comes/NuclearWarComes.htm



In the past I have asked some people what church they belong to. They say the Mormon Church. I ask do you believe the Book of Mormon is true? They say yes. I ask was Joseph Smith a prophet from God? They say yes he restored the only true and living Church on earth today. I say ok I understand what you say, do you want to know more that Joseph Smith said? Or are you a hypocrite? So reader what is your answer?
OK Reader do you have a brain to think or are you just a monkey that has been taught to obey? Now use your brain to think what it says in the Book of Mormon what Moroni 6:1 tells:
"1 And now I speak concerning baptism. Behold, elders, priests, and teachers were baptized; and they were NOT baptized save they brought forth fruit meet that they were worthy of it."
Can you see that elders, priests, and teachers were baptized. That is RE- Baptism. Because they had sinned and repented. But hypocrites do NOT really believe the Book of Mormon do they? They don't feel to repent and be re-baptized.

Joseph Smith said: "If you wish to go where God is, you must be like God, or possess the principles which God possess, for if we are NOT drawing towards God in principle, we are going FROM Him and drawing towards the devil."
Teachings of the Prophet Joseph Smith page 216
On the Freeway you can ONLY go 2 directions. Opposite ways.
"I am left to mourn because of the unbelief, and the wickedness, and the ignorance, and the stiffneckedness of men (women);" just like Nephi said says the Parowan Prophet.

Email me and tell me if or when you want to begin a new life after you have repented of past mistakes and by being Baptized again like Joseph, Brigham, and thousands of others have done in the past. Leland@parowanprophet.com

Jesus Christ died for sinners that will repent. The rest get to see HELL.
"31 Yea, I would that ye would come forth and harden not your hearts any longer; for behold, now is the time and the day of your salvation; and therefore, if ye will repent and harden not your hearts, immediately shall the great plan of redemption be brought about unto you.

32 For behold, this life is the time for men to prepare to meet God; yea, behold the day of this life is the day for men to perform their labors.
33 And now, as I said unto you before, as ye have had so many witnesses, therefore, I beseech of you that ye do not procrastinate the day of your repentance until the end; for after this day of life, which is given us to prepare for eternity, behold, if we do not improve our time while in this life, then cometh the night of darkness wherein there can be no labor performed.

34 Ye cannot say, when ye are brought to that awful crisis, that I will repent, that I will return to my God. Nay, ye cannot say this; for that same spirit which doth possess your bodies at the time that ye go out of this life, that same spirit will have power to possess your body in that eternal world.

35 For behold, if ye have procrastinated the day of your repentance even until death, behold, ye have become subjected to the spirit of the devil, and he doth seal you his; therefore, the Spirit of the Lord hath withdrawn from you, and hath no place in you, and the devil hath all power over you; and this is the final state of the wicked" Alma 34:31-35

Like Joseph said we are getting closer to God or the devil. Choose you this day whom ye will serve.
"27 Wherefore, men are free according to the flesh; and all things are given them which are expedient unto man. And they are free to choose liberty and eternal life, through the great Mediator of all men, or to choose captivity and death, according to the captivity and power of the devil; for he seeketh that all men might be miserable like unto himself." 2 Nephi 2:27

Every month at Fast and Testimony meetings around the world good LDS believers stand and bare testimony how true the church is. They are just ignorant of what Joseph Smith said.
FALSE SPIRITS IN THE CHURCH
Joseph Smith said: "The Church of Jesus Christ of Latter-day Saints has also had its false spirits; and as it is made up of all those different sects professing every variety of opinion, and having been under the influence of so many kinds of spirits, it is not to be wondered at if there should be found among us false spirits."
Teachings of the Prophet Joseph Smith page 213

But you can not convince such people that their testimony is in opposition to what the scriptures or Joseph Smith taught.
They are sincere ignorant hypocrites. Just saying like a Parrot what they have heard others say. Going to see hell for themselves. See some things Joseph said: CLICK HERE http://www.parowanprophet.com/Polygamy_And_Mormons/secret.htm

I can remember teaching in Priesthood and having members tell the Bishop I was not teaching what the Priesthood manual said. He called me in to ask why. I said whoever wrote the Priesthood manual didn't know what Joseph Smith said that was written in the History of the Church. Then I showed him what Joseph said and he released me from teaching. Later I was excommunicated from the church. See this CLICK HERE
http://www.parowanprophet.com/excommunicate.htm
Look at any Dictionary what a Hypocrite is.
See who and what God is really. CLICK HERE http://www.parowanprophet.com/Proof2/God_is_a_Racist.htm

My point is that you do NOT believe what the scriptures and God's Prophets say. You just listen to others opinions.
So welcome to hell. It will last forever for you. You once had a chance to change your ways of thinking. Proof is here.

"25 And this we saw also, and bear record, that an angel of God who was in authority in the presence of God, who rebelled against the Only Begotten Son whom the Father loved and who was in the bosom of the Father, was thrust down from the presence of God and the Son,
26 And was called Perdition, for the heavens wept over him—he was Lucifer, a son of the morning.

27 And we beheld, and lo, he is fallen! is fallen, even a son of the morning!
28 And while we were yet in the Spirit, the Lord commanded us that we should write the vision; for we beheld Satan, that old serpent, even the devil, who rebelled against God, and sought to take the kingdom of our God and his Christ—

29 Wherefore, he maketh war with the saints of God, and encompasseth them round about.
30 And we saw a vision of the sufferings of those with whom he made war and overcame, for thus came the voice of the Lord unto us:

31 Thus saith the Lord concerning all those who know my power, and have been made partakers thereof, and suffered themselves through the power of the devil to be overcome, and to deny the truth and defy my power—
32 They are they who are the sons of perdition, of whom I say that it had been better for them never to have been born;

33 For they are vessels of wrath, doomed to suffer the wrath of God, with the devil and his angels in eternity;
34 Concerning whom I have said there is no forgiveness in this world nor in the world to come—

35 Having denied the Holy Spirit after having received it, and having denied the Only Begotten Son of the Father, having crucified him unto themselves and put him to an open shame.
36 These are they who shall go away into the lake of fire and brimstone, with the devil and his angels." Doctrine and Covenants 76:25-36

Mish when your mom left me after 24 years. I thought I could not live without her.
I always thought I could do anything with her beside me and loving me like Genesis 2 tells. She was my heart. But the time came when she left me and my heart was split in two. Obey God or her. One side was filled with memories. My other side died with her gone.
I sometimes lay awake at night and walked down memory lane with the tears of her upon my pillow. We had experienced and learned so much together. Remembering her was easy;
I'd do it every day. And missing her is a heartache that never goes away.
I hold her tightly within my heart and there she will remain. You see my life has gone on without her, but I will never be the same. My God lived a life of sorrow.
And I must do the same. Sacrifice does bring forth the blessings of heaven.

I now look forward to eternity with hope again. I am loved again without her. I've realized I can do what God says without her help. Genesis 2 again after 6000 years. Which thing I never had supposed. God has blessed me beyond what I ever imagined that my life could ever be.
I now understand what really matters to her. I was blind for 24 years what she wanted. I had to break 6000 years of traditions. The die is cast and I am glad now to know the truth. I was so blind and always tried to please her.
7 houses in 24 years that I tried to give her happiness. I was so close to her that I couldn't see what really mattered to her.
I have lived here where you were born 40 years now. You know I do have some children who don't even want to be where their Father is in heaven.
My teachings about the truth have been forsaken. Mom's example has been the love of money; and not to do or live the truth. She abandoned 24 years of all our learning together, I cry sorrows for her and our children.

When a rich person dies people often say how much did they leave? The Truth is they left it all. Knowing what matters in eternity is all that goes with you. Eternal knowledge can't be given; it comes with experiences. True CLICK HERE WEALTH is what?
God is more intelligent than us all; that is why he is God.
He knows what is best. Faith comes by experiences BY doing what he has said.
Christ said many are called but few are chosen. Very few! What if you just have a few of anything? How many are a few? Love is the greatest force in the Universe. Few can love like God. Very few! I have learned that by experience.
My life has been worth everything now that I have eternal blessings. God is eternal and just and righteous. I know that.

"BUT JESUS SAID unto them, a prophet is not without honor, but in his own country, AND AMONG HIS OWN KIN, and in his own house." Mark 6:4

"5 But behold, verily I say unto you, that there are many who have been ordained among you, whom I have called but few of them are chosen. 6 They who are not chosen have sinned a very (very) grievous sin, (SIN) in that they are walking in darkness at noon-day." Doctrine and Covenants 95:5-6

"20 There is a law, irrevocably decreed in heaven before the foundations of this world, upon which all blessings are predicated— 21 And when we obtain any blessing from God, it is by obedience to that law upon which it is predicated." Doctrine and Covenants 130: 20-21

See Matthew 10:34--42 Resist God and You Will Lose PHOTO over my porch at home in Parowan Utah 84761-1000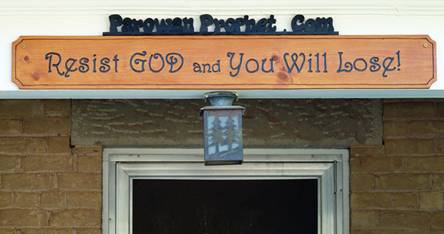 I said above that God is a Racist but your traditions have lied to you. Many people think they know better than God how people should be made so they MIX the races. The Bible says God created everything to reproduce after its own kind and God said it was GOOD. Genesis 1:21-25 A Racist God CLICK HERE and CLICK HERE and CLICK HERE and CLICK HERE and CLICK HERE and CLICK HERE
Many people go to church on SUNday because the Romans worshiped the SUN god on that day. And Roman TRADITIONS still rule to keep SUNdays.

NOTICE it was the Devil that caused Adam and Eve to know they were naked. Genesis 3 AND because Adam hearkened to Eves words; the world is cursed for 6000 years. AND they were driven OUT of Paradise. They were naked in Paradise and it was ok with God. The DEVIL has brought Traditions of strife, war, and killing.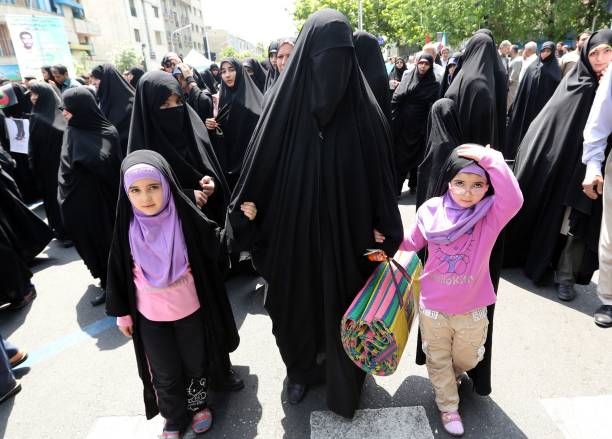 Not a single word in the Muslim Koran Scriptures commands Muslim women to dress like this. Sura 7:26 says: "Children of Adam. We have given you clothes to cover your nakedness, and garments pleasing to the eye." So is this black pleasing to the eye? -Traditions Damn Muslims too. Sura 7:27 says: "We have made the devils guardians over the unbelievers."
The Koran Sura 2:256 says: "There shall be NO compulsion in religion."
But today they say "convert to Islam or die." So hypocrites must die.

This below looks more like a real woman than those BLACK gobs of cloth above. The Muslim men are supposed to commit suicide if they see a naked woman, so tell them to see this link of mine. We can eliminate millions of terrorists. Officials and News Media search for suicide killers' motive. What idiots we are. Their motive is to die for Allah.


What beautiful CAMEL Decorations.
This is so you know that I am NOT some self-righteous, pious, hypocrite, that puts on a false face for people. I am what I am. What are Prophets?
Perhaps I will go in with 5 virgins to the marriage and shut the door like Jesus Christ did in Matthew 25 Then what? Guess! He said: "If any man serve me, let him follow me." Perhaps I'll have to buy some Viagra. I am not the man Jesus was. Any donations to help?
I'm sure like all of HIStory that the self-righteous are offended at what a man who speaks with God says.
Why does God talk to me a sinner; when he doesn't speak to other sinners? Because I believe what he says; and others are hypocrites and say they believe; but they really "really" don't believe.
That is what a hypocrite is. See and Read Matthew 23 in the Bible. The LDS speak of Eternal Marriages. LDS President John Taylor had a wife 52 years younger. Will that matter in a million years of eternity you hypocrites?
Who say they do believe but don't really believe what God says.
DONATIONS
Hypocrites and Politicians